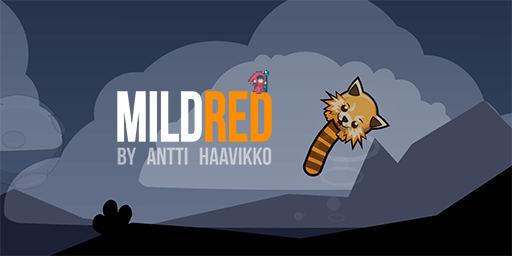 Mildred
Millie is a red panda. A "regular" red panda who like her brethren likes to roll around, sleep all day and eat all night. But such things are common when you pretty much only eat bamboo.
The game was created for the 2nd Alakajam! in 48 hours with the theme of "You can't see everything".
Tools used:
Unity with Anima2D and Post Processing
Adobe Illustrator and Photoshop
SunVox
Bfxr
Download
Comments
Log in with itch.io to leave a comment.
basically all of your games with a movable player are brutal
It's too bad there is no saving progress like in Voodoo lockdown. Mili can be super annoying as she has the inertia of a truck in a no friction environment. Restarting from scratch is discouraging.

True, but it is also very short. Not quite sure what you mean about the friction, there is a ton of it. Otherwise Millie would just spin in place without moving at all. Thanks for giving it a go!
Yes, Millie has a bit of friction on land only, it takes her a while to change directions though. I still like your games ! (even though I never found what was the hidden game in the binary one ;) ).

Finished the game actually. I had gone to Millie wants to mate before but had not found the easy solution. thanks for another nice game!

That sure was a nice game.

But it took me ages to figure out what was up with the disappering and appearing stuff, thought of a glitch at first. :-D

Thanks! Yeah, I thought it would be kinda obvious like the boos are in mario but since it is based on rolling direction and physics, it can be way more confusing and harder to figure out. If it wasn't a jam game, I would have most likely caught it with some playtesting and then added in a better introductory part for it.